Entitled to a Grant: What is fair?
May 2, 2016
https://twitter.com/andpru/status/727175979660120064
I am genuinely curious as to how you people see this. Is there any particular difference between people arguing that that acquisition of the first major grant award should be protected versus multiple award and the people arguing that acquisition of the first and third concurrent awards should be on an equal footing?
If we agree that NIH (or NSF or CIHR or whatever) grants are competitively awarded, it follows that nobody is actually entitled to a grant. And as far as I am aware, all major funding agencies operate in a way that states and demonstrates the truth of this statement.
Specifically in the NIH system, it is possible for the NIH officials to choose not to fund a grant proposal that gets the best possible score and glowing reviews during peer review. Heck, this could happen repeatedly for approximately the same project and the NIH could still choose not to fund it.
Nobody is entitled to a grant from the NIH. Nobody.
It is also the case that the NIH works very hard to ensure a certain amount of equal representation in their awarded grants. By geography (State and Congressional district), by PI characteristics of sex and prior NIH PIness, by topic domain (see the 28 ICs) or subdomain (see Division, Branches of the ICs. also RFAs), etc.
Does a lean to prioritize the award of a grant to those with no other major NIH support (and we're not just talking the newcomers- plenty of well-experienced folks are getting special treatment because they have run out of other NIH grant support) have a justification?
Does the following graph, posted by Sally Rockey, the previous head of Extramural Research at the NIH make a difference?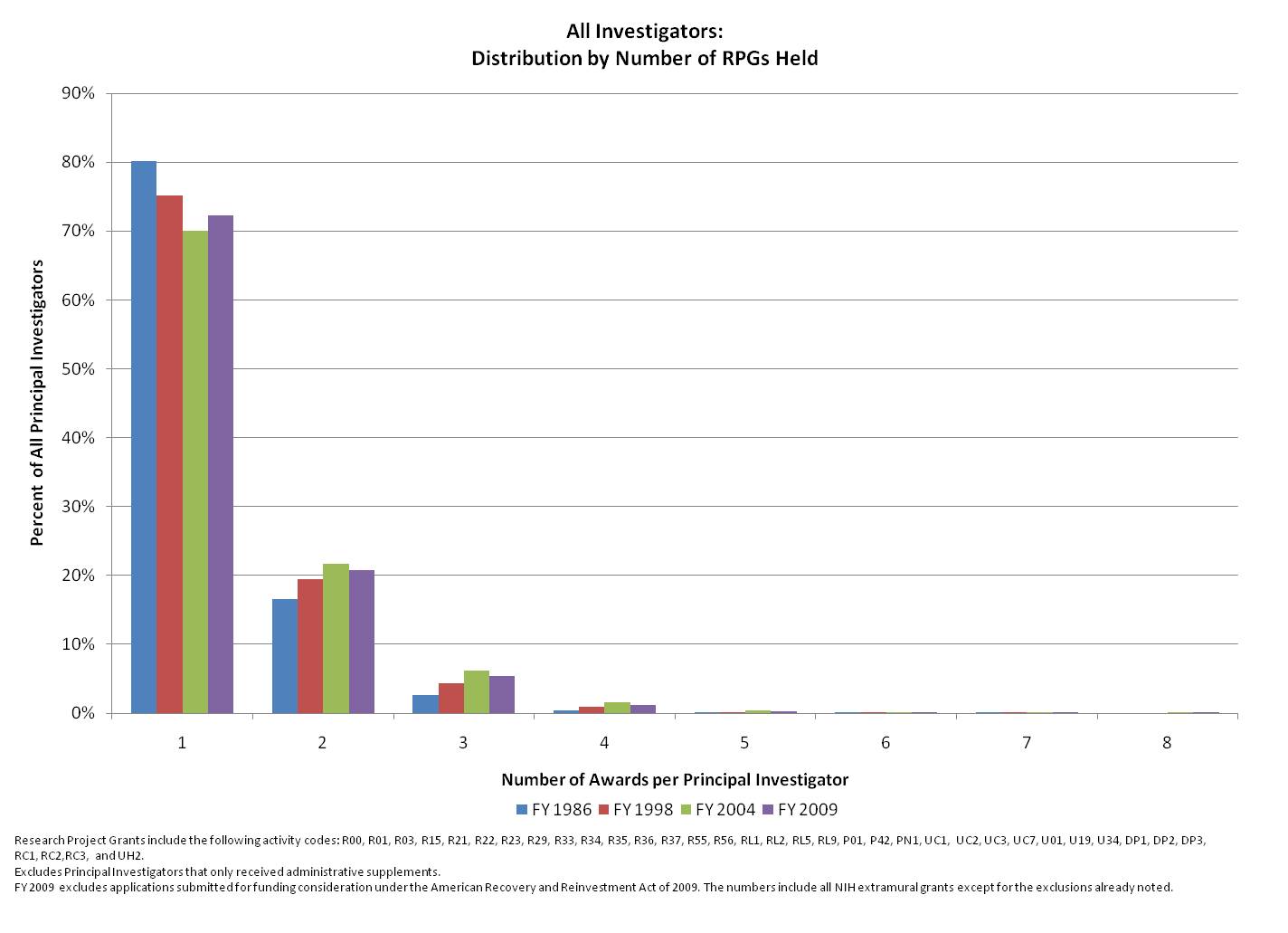 This shows the percentage of all PIs in the NIH system for Fiscal Years 1986, 1998, 2004 (end of doubling) and 2009 who serve as PI on 1-8 Research Project Grants. In the latest data, 72.3% had only one R01 and 93% had 1 or 2 concurrent RPGs. There were 5.4% of the PIs that held 3 grants and 1.2% that held 4 grants. I just don't see where shifting the 7% of 3+ concurrent awards into the 1-2 grant population is going to budge the needle on the perceived grant chances of those without any major NIH award. Yes, obviously there will be some folks funded who would otherwise not have been. Obviously. But if this is put through in a systematic way*, the first thing the current 3+ grant holders are going to do is stop putting in modular grants and max out their allowable 2 at $499,999 direct costs. Maybe some will even get Program permission to breach the $500,000 DC / y threshold. So there won't be a direct shift of 7% of grants back into the 1-2 grant PI population.
There has been a small trend for PIs holding more grants concurrently from 1986 to the late naughties but this is undoubtedly down to the decreasing purchasing power of the modular-budget grant.
BRDPI.
I"ve taken their table of yearly adjustments and used those to calculate the increase necessary to keep pace with inflation (black bars) and the decrement in purchasing power (red bars). The starting point was the 2001 fiscal year (and the BRDPI spreadsheet is older so the 2011 BRDPI adjustment is predicted, rather than actual). As you can see, a full modular $250,000 year in 2011 has 69% of the purchasing power of that same award in 2001.
Without that factor, I'd say the relative proportions of PIs holding 1, 2, 3 etc grants would be even more similar across time than it already is.
So I come back to my original question. What is fair? What policies should the NIH or any broad governmental funding body adopt when it comes to distributing the grant wealth across laboratories? On what basis should they do this?
Fairness? Diversity of grant effort? PR/optics?
__
*and let us face it, it is hugely unlikely that the entire NIH will put through a 2-grant cap without any exceptions. Even with considerable force and authority behind it, any such initiative is likely to be only partially successful in preventing 3+ grant PIs.
DISCLAIMER: As always, I am an interested party in these discussions. My lab's grant fortunes are affected by broad sweeping policies that the NIH might choose to adopt or fail to adopt. You should always read my comments about the NIH grant game with this in mind.