Jeremy Berg Is The Shizznitt!!11!!
September 1, 2010
In response to my request on his previous post plotting impact score versus percentile for hundreds of R01 grants asigned to NIGMS, Jeremy has now posted a similar scatterplot of grants considered in the January 2010 Council with the dots color coded to indicate whether they were funded: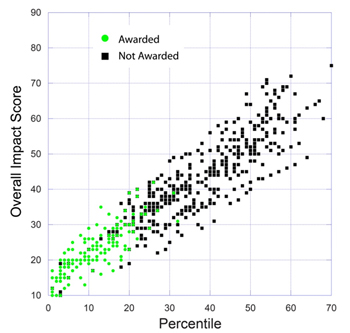 In case you are feeling sorry for the poor fucks with outstanding percentile who didn't get funded, Jeremy points out the following:
Notice that there is a small number of applications with percentile scores better than the 20th percentile for which awards have not been made. Most of these correspond to new (Type 1, not competing renewal) applications that are subject to the NIGMS Council's funding decision guidelines for well-funded laboratories.